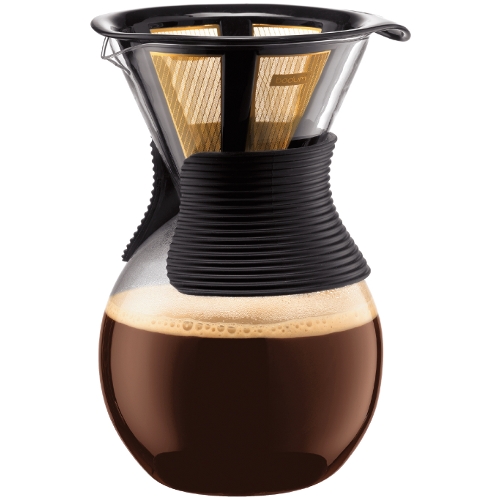 The pour-over brewing method is a quick and efficient method used to produce a coffee between auto-drip and ranch press. Gold filters will produce a resembles to the French Press while paper filters will result in something closer to auto-drip. This method originated in 1908 by Melitta Bentz and has become a staple hot brewing method throughout the world.

The pour-over process generally involves preheating the cone and cup with boiling water, adding the ground coffee to the filter, and slowly pouring water over the grounds while stirring. Judging the appropriate amount of water to coffee will have a significant impact on the result. The entire process takes 2-4 minutes. The principle here is that the coffee is continuously replenished with fresher water to produce a quick brew; however, the fresh water can extract additional particles from the surface grounds, adding a sort of "overdone" taste.

Below you will find our handpicked recommendations for pour over appliances:
---
Melitta Ready Set Joe Single Cup Coffee Brewer
Info: Arguably the most affordable pour over cone; easy to clean, simple design, good for travel, little hassle.
Price: $5.75
---
Vietnamese Traditional Coffee Filter (Phin) 11 Ounce​​​​​​​
Info: Made in an asian-style pour-over with nearly all-metal construction. Durable, great heat retention, easy to wash (dishwasher safe) makes strong coffee with fine grinds and traditionally pairs with condensed milk. Doesn't require disposable filters.

Price: $9.95

---
Hario V60 Ceramic Coffee Dripper​​​​​​​
Info: A great 1-cup pour-over cone that's commonly used in the industry. Reccommended to use a goose-neck style kettle to align with the wide bottom opening. Using the Hario takes a bit more finese and experience to produce a quality cup of coffee, however there are many videos specifically for this product. Requires filters.

Price: $19.48

---
Info: Another solid 1-cup pour over that utilizes steeping and filtering. Contains more body than other drip methods and less "sludge" than most French Press appliances. The convenient "shut-off valve" allows users to let the coffee and water sit together in the cone until you open the vale and let the drip begin. Makes a very great cup of coffee and is easy to clean. Use with filters.

Price: $22

---
Info: The flat-bottom coffee bed geometry, patented "Wave" filter, and three-hole design work together to provide an even extraction that makes brewing a perfect cup accessible and easy. Delivers consistent coffee output with more evenly distrubted coffee bed (compared to the conical bed of the Hario v60). Some users even say it has delivered more consistent results than the Chemex.
Price: $24.20

---
Chemex 6-Cup Classic Series Glass Coffee Maker​​​​​​​
Info: 3-8 cup sizes with various wrapping styles. For the best output, users should pick up either their special bleached or unbleached filters. Produces a very high quality and "clean" output (similar to tea) with little biterness from the effecient filters.

Price: $38.49